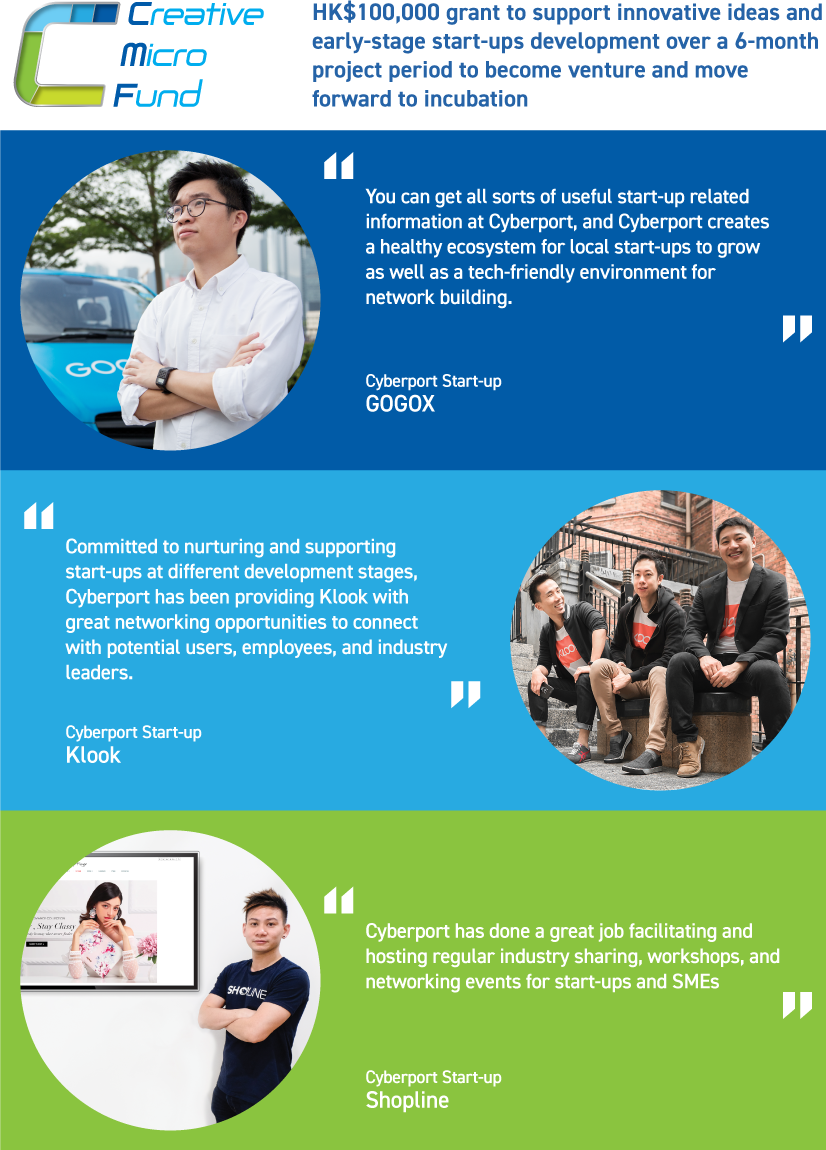 CCMF encourages innovation, creativity and commitment to grow.
The programme sponsors high potential digital tech projects and early-stage start-ups with financial assistance and a comprehensive nurturing system to facilitate development in a pre-incubation stage.
In general, CCMF accepts individual and company application. Individual applicant must be HKID card holder, company applicant is limited company registered and incorporated in Hong Kong.
Details are stated at corresponding sub-programme pages.

Cyberport Creative Micro Fund
There are four sub-programmes under the scheme. Each sub-programme, supported by CCMF, is designed to distribute resources among different target groups to achieve its objectives.
All sub-programmes have Individual Application and Company Application. Please refer to corresponding sub-programme pages for application eligibility.
Professional Programme (PP)
Hong Kong Young Entrepreneur Programme (HKYEP)
Cyberport Greater Bay Area Young Entrepreneurship Programme (Cyberport GBA YEP)
Application Eligibility

All team members aged 18-30; currently
enrolled or graduated within 3 years in
registered tertiary institutions
in HK/Macau/Guangdong

Application Deadline

5 December 2022
Thank you for your interest in Cyberport Greater Bay Area Young Entrepreneurship Programme. Should you have any enquiries, please contact us via email at ccmf_enquiry@cyberport.hk.
Cyberport University Partnership Programme (CUPP)
Application Eligibility

All team members aged 18-30
currently enrolled or graduated within 3
years in local university partners

Application Deadline

15 March 2023
Programme benefit
Apart from cash grant, CCMF gives you access to Cyberport's extensive resources and support for innovators and entrepreneurs, including:




Training, Mentorship and business advice





Business development and investment connections





A local and global business network





Publicity and promotion





Industry recognition and validation





Alumni network and peer support
Successful completion of CCMF programme may increase your chance of acceptance to our Cyberport Incubation Programme.
How we evaluate CCMF applications
CCMF applications are evaluated by an independent vetting team that includes venture capitalists, academics, industry veterans and trade association members. They select participants according to four criteria:
Project management team (30%)

The capability of the project management team is evaluated according to track record, execution ability, probability of launch, individual qualifications and roles within the team.

Business model and time to market (30%)

The business model is evaluated by the short and long term objectives, apparent market need, target market and marketing strategy, and realistic assessment of the project viability. Projects that launch within three months of grant disbursement are preferred.

Creativity and innovation (30%)

Innovative technology, creative solutions, disruptive ideas, emerging technology and breakthrough problem-solving will score higher.

Social responsibility (10%)

Preference will be given to projects with socially responsible dimensions, such as open source software, creative commons IP, ethical decision making, or which contribute to solving social problems.
How vetting mechanism works
Vetting process
CCMF grantees are selected by an independent vetting team comprising Entrepreneurship Committee Advisory Group (ECAG) members. The selection follows this three-stage process:
Stage 1: Initial screening
An initial screening is conducted by the Cyberport and / or the independent vetting team upon receipt of all applications. The objective is to ensure that applications have fulfilled the eligibility criteria listed in the relevant Application Form and Guides & Notes for Applicant.
Stage 2: Vetting
After a programme's application deadline and initial screening, the independent vetting team will evaluate the applications. Shortlisted applications will be notified by email.
Stage 3: Presentation session
After the vetting, the independent vetting team will confirm the admission CCMF grantees. Each shortlisted candidate is required to present their application followed by a Q&A session.
Result will be announced by email.
Cyberport Creative Micro Fund is administered by Cyberport's Entrepreneurship Committee Advisory Group (ECAG), comprised of financial sector, academic, and Association leaders.
How grant disbursement works
Successful applicants will need to implement your project within six months to qualify for HK$100,000 grant. During this time you must submit interim and final reports. The grant is disbursed in three stages.
Stage 1


HK$10,000
Arranged upon signing the CCMF agreement
Stage 2


HK$45,000
Arranged upon approval of the interim report
Stage 3

HK$45,000
Arranged upon project completion and approval of the final report
Enquiry: ccmf_enquiry@cyberport.hk
Note: If you wish to improve your company's system control in common business areas (e.g. procurement), please click here to refer to the ICAC's corruption prevention resources and seek free, confidential and tailor-made corruption prevention advice from the ICAC's Corruption Prevention Advisory Service.